The act of making is typically done to please someone else. At least in my case. I have created all kinds of things to gain that praise from someone. When I bake I make things that my family likes. Not this time. Today I made something that only I like. Last week I realized I have not been treating myself – that ended today.
My daughter claims dried fruit is an abomination. Raisins are like chewing old people. I disagree. But because I love her, I tend to leave out raisins, dried cherries, candied ginger and other dried fruit to please her. My grandma put raisins in everything. I remember my dad complaining about it in everything but butter tarts. I always loved them except that time she put it in her stew… grandma – I love you but that was weird. But the raisin sauce on ham was good!
Today I made Not Hot Cross Buns because every spring the bakeries make them and they look so delicious with their currents and raisins. The hubs bough 'hot cross bun bagels' last week. The flavour was nice but the fruit was green and red. That candied peel fruit that is dyed is tasteless and holds way too much artificial colour. I prefer no food dye. I am not sure why – but it turns me off. Anything that alters normal body chemistry and turns things colours can't be good for you over the long haul.
I soaked 2/3 cup of raisins – the good kind that taste like they came from a red box. You know what I mean. Then I zested one orange and juiced it. I soaked the raisins in the orange juice for about 30 minutes. Rum is good for this as well. While that was happening I weighed out my 440g of flour, 50 grams of dark brown sugar and 50 g of white granulated sugar into the bowl of my stand mixer. I added 2 1/4 tsp or one package of instant yeast, 1 tsp sea salt, 1 tsp cinnamon, 1/2 tsp of allspice and 1/4 of a grated nutmeg. I whisked that together and started on my wet ingredients.
Into a small bowl or two cup glass measure, I added 1/2 cup of 2% milk, 1/3 cup of butter and popped that into the microwave for about a minute swirling it together until the butter melted. I added 1 Tbsp. of vanilla and the orange zest from before. Whisked 1 egg and add it to the mix.
In your stand mixer with a dough hook attachment (or by hand – but it will take a while) on low speed, slowly drizzle the wet ingredients. Before it combines into a ball, drain the raisins and add them to the dough. Beat on medium speed until it comes together. There will likely be raisins or what ever dried fruit you used on the bottom of the bowl.
Sprinkle about 2 Tbsp. of flour onto a clean surface and dump the dough and remaining dried fruit out. Start to knead the dough until it feels soft. At the beginning it will be gritty – you will know the second it becomes soft and smooth. It will take about 5-7 minutes but maybe longer. It took me 10 minutes today. Form into a ball.
Light oil a bowl, and place your dough into the bowl. rotate it so it also is covered in oil. Cover with a damp cloth and let this double in size in a warm spot. Keep an eye on it it should be about an hour but it really depends on your kitchen.
Divide up the dough into 14 pieces and form into balls. I put them into a parchment lined pan because I like soft sides. Give them a little room because they will expand. If you don't want soft pull-a-parts – put them on a baking tray with lots of room around them so they won't touch while rising. Let rise for another 2 hours.
This is where I stop because a flour paste cross is tasteless and I don't like the sticky glaze – but if you do – here are the rest of the instructions. This is why I call them Not Hot Cross Buns. My daughter said – just call it raisin buns…. sheesh mom!
The cross! Mix about a 1/3 cup of flour and 1/4 of water until it forms a paste. You are going to pipe this – so adjust the consistency as necessary. I filled a ziplock bag and snipped the end off. Pipe a long stream from top to bottom allowing it to hug the bun. Turn your tray and repeat the process intersecting the first line.
Preheat your oven to 375F. Make an egg wash of egg and cream or milk – about a tbsp, and brush over your buns. Bake in the overn for about 20 – 25 minutes.
Make an apricot glaze – I used Peach jam because that is what my mom made me and it is what I had on hand. 1 tbsp. of jam, 3 tbsp. of vanilla and 1 tbsp. of water. heat together and strain through a fine sieve. Brush over the warm buns. Eat them warm, eat them room temperature or eat them cold.
This is how they should look: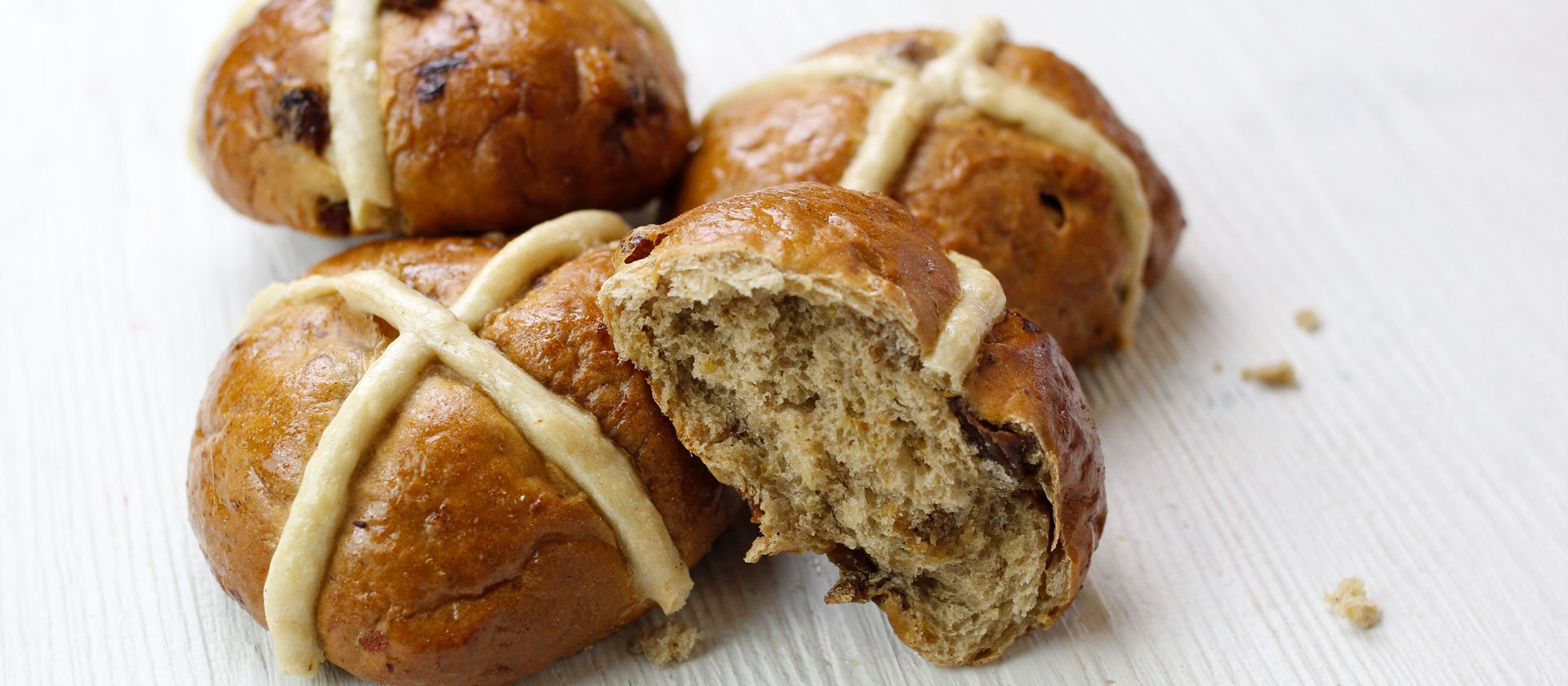 Tell me how yours turned out!
Stay healthy friends!