If you know me at all, you know one of my favourite places to be at any given moment is sitting in a rocking chair on the veranda at Main Street USA in Disneyland. As I age, I am less about the rides and more about details and atmosphere. Sipping an ice-cold lemonade, listening to ragtime music or better yet, the Dapper Dans and watching the world go by. MainStreet is charming. It evokes feelings from my childhood when everything was easy.
The first time I went to Disneyland I was six. My first memory is of my family walking from the parking lot which is now the Esplanade and Disney's California Adventure, through the front gates which haven't changed a bit. The Mickey floral is the same and we walked through the left side of the tunnel sweeping us into a whole other universe.
It was clean, smelled of vanilla, and colourful in pale yellows, reds and blues. I held my dad's hand and took it all in. I can't tell you what my first ride was. I have no idea. I remember riding Pirates and being scared on Haunted Mansion, sitting beside my mom on It's a Small World and I was horrified that my uncle was shrunk and never was the same size again after riding Adventures Thru Inner Space. I remember loving the People Mover and America Sings. My first parade was Main Street Electrical Parade and my first character visit was with Mickey Mouse on Main Street and my first crush was Robin Hood.
My last visit was similar to all the visits before. Only this time I was the mom and the parking lot was over by the Disneyland Hotel, that special cast member spot because my niece is one of those Cast Members who work for the Mouse. I walked along Main Street that hadn't changed and still looks clean, smells of vanilla and colourful in pale yellows, reds and blues. I sat on the veranda sipping lemonade while my girls rode Star Tours endlessly in the same spot that Adventures through Inner Space used to be. I shared knowledge of secrets, retired attractions and hidden pathways that have now become other things.
.
Crowds and costs have become overwhelming but somehow with the right planning, I found myself enjoying it all the same way I had when I was six because, for me, the pleasure is in the details. Here are a few of my favourite details that haven't changed.
1.       The Red and White Lightbulb. At the end of Main Street at Refreshment corner, there are a series of red and white light bulbs at the entrance of the marque. There were not enough spots to have an even pattern of red/white. Walt Disney suggested the imaginears paint one bulb red and white – split it down the middle. This kind of detail impresses the heck out of me.
2.       When building New Orleans Square, the imaginears were sent to NOLA to do some research. They came back with pages of ideas to recreate the area to make it as authentic as possible right down to the brass plaques in the space above some of the doors, this one is above the wall light. In NOLA, these plaques indicated who had fire insurance and who didn't as a signal to the fire department. Fingers crossed you had one so the firefighters wouldn't let the place burn.
3.       The Country Bear Jamboree was a favourite of both my mom and me. We loved Big Al and Rufus. Melvin, Buff and Max would chat before the show from their mounts on the wall. In Many Adventures of Winnie the Pooh, if you look up as you pass through one of the doors, you can see the trio hanging above the door. That makes me smile almost as much as hearing Rufus snore on Splash Mountain.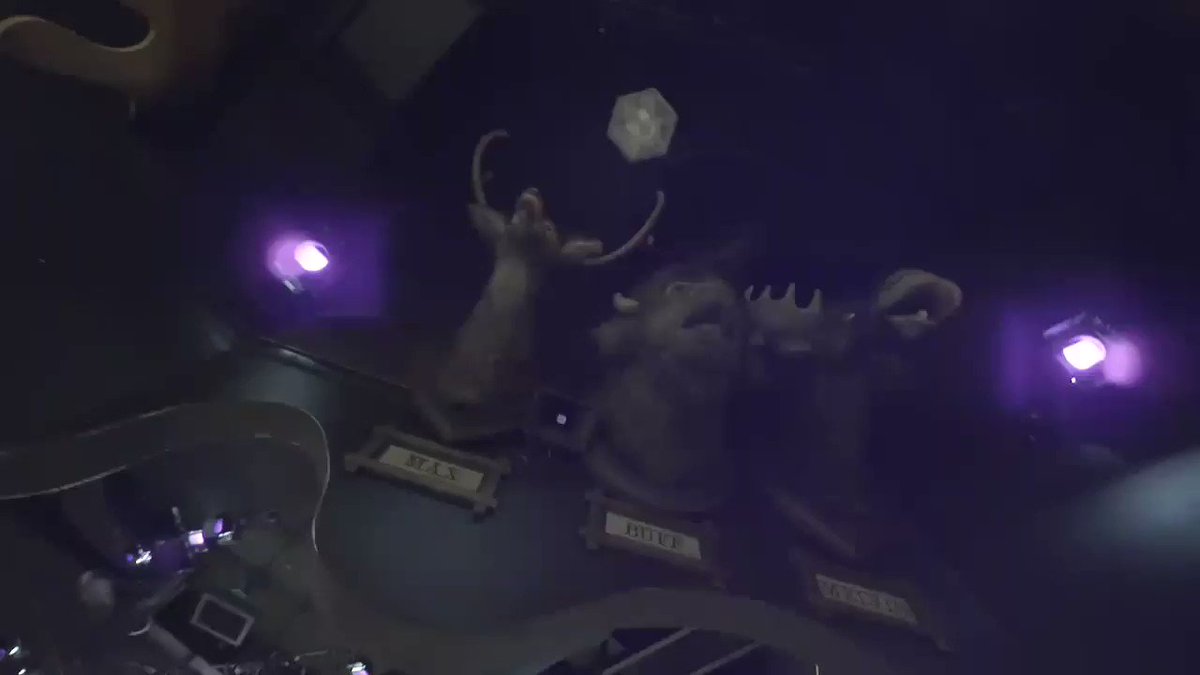 4.       There is a Moon and a Sun in every room of It's a Small World. This is contrary to the song "there is just one moon and a golden sun" but it is a detail that thrills me.
5.       I stood in line for Peter Pan late one night because I like that ride to be my last. It is always a 45-minute wait and kids get bored pretty easy. Parents were all on the phones while kids were swinging from the rails. I tapped a few kids on the shoulder and pointed to the window above Snow White's Scary Adventure. The evil queen opens the curtains every few minutes and surveys Fantasyland with a scowl. The kids were amazed and showed their parents. There is always something special to see when you are looking up. The ride is undergoing a major refurb right now so finger's crossed she will still be lording over Fantasyland when it is all complete.
I know a billion more and it can be pretty annoying going with me as I spew Disney trivia and secrets to unsuspecting companions. But that is all part of the fun for me.